Extruded Tubing
PEEK Tubing
Polyetheretherketone (PEEK) is a high-strength, high-temperature thermoplastic with superior mechanical and chemical properties that are ideal for medical tubing and other demanding applications.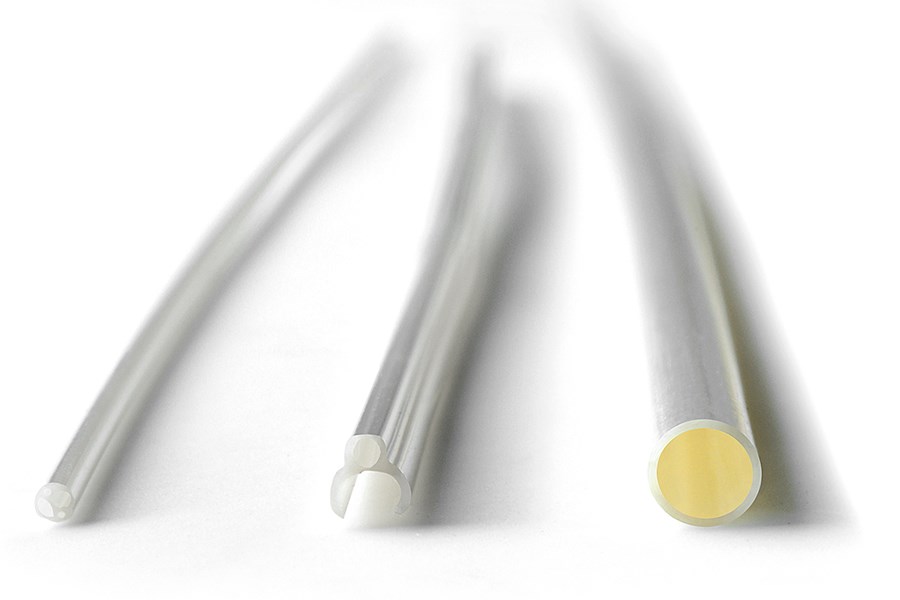 About
Spectrum understands the challenge of successfully processing high-performance and high-heat polymers for extruded tubing. PEEK is often the preferred polymer for high-performance materials for medical devices and other demanding market applications. Spectrum has the tools, technologies, and expertise to process PEEK and other high-performance thermoplastics for optimum function and longevity.
Specifications and Dimensions
PEEK is a semi-crystalline thermoplastic that exhibits excellent chemical, mechanical, and thermal properties. PEEK is the material of choice for a variety of precision parts because of its high temperature, chemical resistance, durability, and potential for continuous use at HPLC pressure. Its load-bearing capabilities also make it a superior material for orthopedic, spine, and sports medicine implants.
Spectrum's experienced in-house material experts and extrusion engineers produce some of the most complex and custom profiles in PEEK on the market today, including:
Single and multi-lumen PEEK tubing (six lumens or more) up to 1.0 inches in diameter
Sub-ultra-thin-walled tubing (<0.001 inches)
Complex geometries
Custom profiles, solid and hollow rods
Characteristics and Properties
PEEK can withstand the most rigorous physical and mechanical stresses.  With a very low coefficient of friction, this material has high tensile strength and flexural properties, offers good push-ability and kink resistance in catheter applications, and can be manufactured to be radiolucent and radiopaque. Other key advantages of PEEK are:
Excellent biocompatibility
Chemical resistance
Sterilization resistance
Temperature resistance up to 465°F
USP Class VI & ISO 10993 compliant materials
Abrasion resistance
Applications
PEEK is a preferred material for medical device applications that require high chemical and heat resistance, high tensile strength, flexural properties, and lubricity. It is especially popular for single or multi-lumen tubing for a variety of products, including catheters, and electro-surgical tools and instruments. For example, medical device applications include:
Neurovascular microcatheters
Orthopedic implants
Catheter components
Mechanical components of medical and access devices
Replacement for metal and composite components 
Spacers and bushings
Mandrels for secondary operations
MRI-compatible metal replacements
Non-orthopedic implants for spinal, trauma, cardiovascular, and dental applications
Extrusion Secondary Operations
Secondary operations that Spectrum performs for PEEK extrusions include flaring, tipping, laser cutting, radiofrequency welding, ultrasonic welding, heat forming/tube bending, and hole punching.
Spectrum also provides automated and manual assembly in addition to sterile and nonsterile packaging, which shortens the customer's supply chain, improves communication and quality, and delivers products to market faster.
Off-the-Shelf Solutions
Product development is also accelerated through the use of Spectrum's "off-the-shelf" PEEK extruded tubing, which is available via Spectrum Plastics Group's webstore and includes:
PEEK single-lumen tubing and PEEK beading
Tubing sizes: 2-12 French OD
Wall thicknesses: 0.003, 0.005, and 0.008 inches
Spectrum's biocompatible PEEK filament is also an ideal material for injection-molded or additively-manufactured components and devices.
Although PEEK has been used for decades, its material properties continue to be engineered to provide specific characteristics for challenging end-use environments. Creating high-precision, tight-tolerance parts and products from PEEK requires experienced and knowledgeable material experts, extrusion engineers, and operators who are skilled with the latest advancements.