Flexible Packaging & Film
Header bags made with DuPont™ Tyvek®
Spectrum header bags feature strong linear low-density polyethylene with coated Tyvek® headers. They are puncture- and moisture-resistant and ideal for EO sterilization.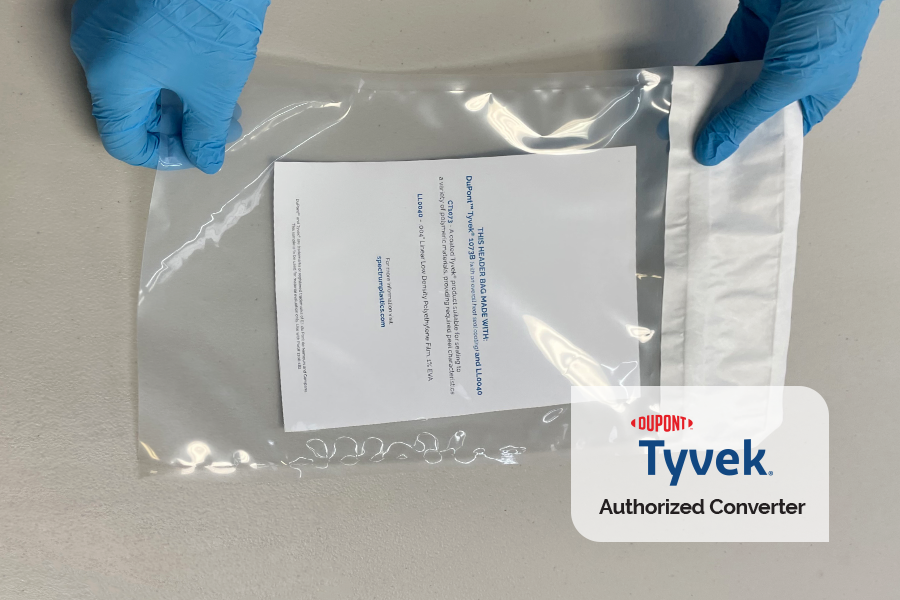 About
Header bags are ideal for heavy and bulky medical devices. The bag header is available in a variety of widths, can be unprinted or printed in up to four colors, and is available wrapped in easy-to-count bundles.
For advice from Spectrum's packaging experts regarding best practices for graphic design and printing for medical packaging, including the electronic submittal of final artwork, please consult Guidelines for Medical Packaging Graphic Design.
Materials
Header bags are also the perfect option for protecting heavy and bulky products, or as the outer layer in double sterile barrier packaging systems. Spectrum header bags meet ISO 13485 quality system and can be manufactured to accommodate irregularly shaped products.
Popular header materials include:
Coated Tyvek® 1059B
Coated Tyvek® 1073B
Coated Tyvek® 2FS
End Markets
Infusion
Enteral
MedSurg
Ophthalmic
Surgical Kits
Exceptional Collaboration
Spectrum will develop the best possible packaging system for your medical device, component, or product that meets all performance and/or end-use specifications.
Contact us to learn how we can help you with your next flexible film and packaging project.