Blog
6 Lessons Learned from One Year in the CEO's Chair
John Wolf, Spectrum Plastics Group's President and CEO, was appointed to the position a little over one year ago and has proven to be an outstanding leader. Previously the President of Spectrum's Specialty and Medical Flexibles, John is helping to steer the company into the future with innovative technology and inspiring teamwork.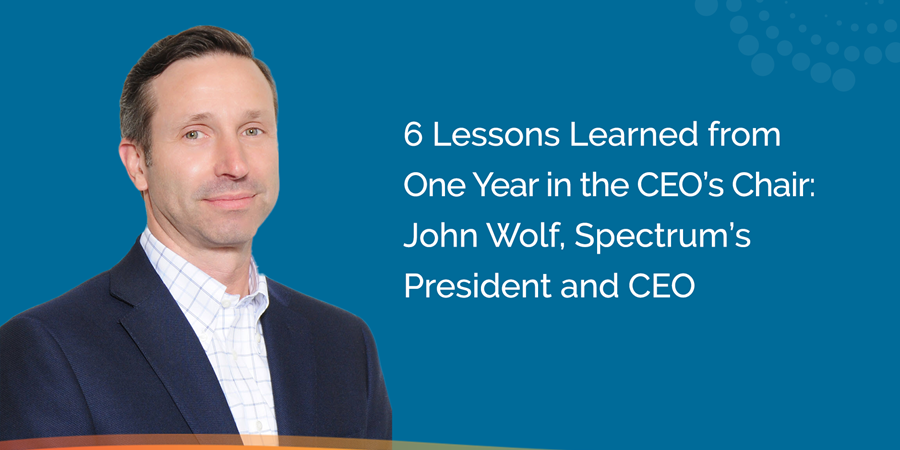 As his first year as CEO closes, John answers some questions about the valuable lessons he has learned.
1. What have you learned about the Spectrum team as a whole in the past year?
I actually don't think I could answer that in 1,000 words or less! I found it remarkable to see the range of technical expertise being called for by our customers and the marketplace. This certainly appeared to increase exponentially with the demand recovery seen across our multiple markets in 2022. Furthermore, I was excited by finding the level of commitment by our team to not let our customers and each other down. This behavior is not something that you can really create, but that you inherently have. It manifests itself in having a service mindset and being driven to respond to those needs with a high energy level. A key goal of mine is to support and turbocharge that culture. Finally, I gained a great appreciation for the tenacity that our team has. We solve complex challenges for our customers which can require agile approaches and often extra iterations to bring a product to its final stages.
2. What was Spectrum's most outstanding achievement over the past year, and how did the team accomplish it?
This is a tough question; how do you choose just one? Overall, growing our business so significantly given the changes and challenges that occurred during the year is remarkable. During this year the team had to adjust to a new CEO, handle continued supply disruptions, attract great talent, and onboard new teammates, as well as winning and completing new projects. These aspects were critical to our success and led to 2022 being a record year for Spectrum. While we found that challenges can always come up outside of our control, seeing our team leverage the strength we have in solving problems and managing through anything was incredibly fulfilling.
3. When faced with a challenge, how do you typically approach solving it?
I first try to simplify the challenge to the most key and important things to address. Then I seek to get the right people together to create action, and finally always put into place a system to ensure feedback and progress. The more important it is, the more frequent the feedback mechanisms cadence should be. Those methods have served me well over the years.
4. How do you motivate and inspire your team?
Ensure they know that if good things are going on, then they won't have me in the middle of it! Joking aside, I look to celebrate the wins as often as possible to help build that culture of success and celebration. I've benefitted from having the chance to develop in a culture where learning is highly encouraged and seek to create an environment where we push limits, make mistakes, learn, and correct. Ideally this creates a situation where we don't make the same mistake twice.
5. What is Spectrum's biggest strength and how do you capitalize on it?
Our greatest strength is the blend of creativity, talent, and investment mindset that Spectrum brings together. We use that to provide the widest range of solutions to the markets that highly value those capabilities. I've seen so many instances of our team bringing a "no fear and no way we will fail" attitude as we've worked on the toughest challenges with our customers. We are helping to develop and produce solutions that range from providing life-changing therapies to supporting critical parts of the food supply, all of which require our customers to trust in that strength. We speak to our commitment to maintaining that trust in bringing our company mission to life when we focus on being the best with technical expertise, responsiveness, and quality. All of this hard work is then rewarded by seeing our customers succeed when their problems have been "Solved by Spectrum".
6. How do you envision taking Spectrum into the future?
I see us growing our positions in key medical therapeutic areas, further expanding our team, and regularly adding new technologies both for the external benefit and to enable us to increase our productivity. It's a powerful flywheel that will keep spinning!